Mexican Colts Santiago Gonzalez Rios revisits USC coaches
nfleming
In 2017 a young international exchange student from Mexico "Santi" arrived at Mountain Creek State High School looking to play rugby in Australia. Coming from a family of rugby enthusiasts and having an uncle who holds the Mexican record for most Rugby test caps for his country, Santi was eager to get a taste for Australian Rugby. Particularly as his home club team in Mexico City is named "The Wallabies".
I was introduced to Santi while trying to get a 1st XV side up and running at MCSHS, the previous three years had been very successful for both school and club with many new rugby players coming to join the USC Barbarians junior and senior colts' sides. Unfortunately, this particular year we couldn't get the numbers for school team and therefore Santiago's only opportunity for rugby was to join the USC U19 colts squad– a big ask for a 16 year old- he was keener than a fat man at a bacon eating contest.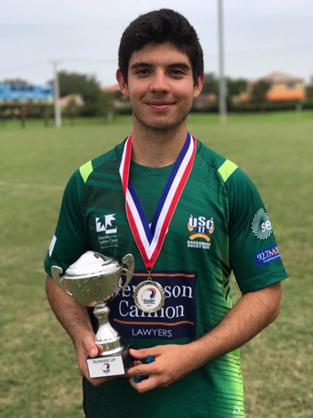 During the 2017 season Santi worked closely with Jason Gallagher honing his half back skills – pass and box kick. Playing in the USC Colts 2nd side for most of the year Santi gave 100% and even came to understand the art of rugby sledging from the Noosa #9- at first being called nasty names and told he couldn't pass properly by his opposite number he soon realised the mental side of rugby was as important as the physical.
Santi got his break to play in the Colts A side later in the year after a shoulder injury to Slade Blunt ruled him out for a couple weeks. For a young 16 year old- he did a great job.
Just before the end of the season Santiago headed home for a Mexican U19 National squad trial, which he was picked as a back up 9 to the incumbent. Shortly after this the North American Championship in Florida saw Santi coming off the bench, but by showing his determination and massive improvement in his pass he proudly started the grand final against USA.
"The American forward pack was huge and simply played one off the ruck rugby, not inspirational rugby but after we had lost three of our best forwards in our first game against Trinidad and Tobago, the USA forwards simply out muscled us up front."
In 2018 aged 18 Santiago was the starting halfback for the Mexico Colts (U19) in the North American Championship played in Mexico City, "It was awesome, we played USA in the grand final again and this time we had our full squad AND having home side advantage coupled with playing at altitude (2250m above sea level) we totally flogged the yanks" Santi recounts with a glint of pride in his eyes.
"They tried to play the same power game as the previous year in Miami but their forwards weren't fit enough to cope with the altitude, we simply ran them off their feet and those 115 kg muscle bound guys just didn't have the lungs to compete- I loved it, we loved it!"
Jason Gallagher and I caught up with Santiago last weekend over a beer or 5 at the Kawana pub- he recounted his experience here on the Sunshine Coast at USC with his team mates and coaches as a big factor in his development into a tougher and more skilful halfback- and thanks to the Noosa sledging- a mentally tougher young man.
Another wonderful success story for a young man who wears his USC training shirt to the Mexican National training sessions with pride.
Author: Doc Fleming